If you're an Amazon seller looking to take your business to new heights, you need the right tools in your arsenal. One tool that has been making waves in 2023 is Helium 10. In this review, we'll delve into what Helium 10 offers, how it can empower you as a seller, and its pricing structure.
We'll also explore the functionalities of the Helium 10 Chrome extension and provide insights on how to maximize its potential for your business. Additionally, we'll discuss the advantages of utilizing Helium 10's features and examine popular product listing tools that can further accelerate your Amazon venture.
If you're eager to discover how Helium 10 can revolutionize your business, this comprehensive review is a must-read. Let's dive in!
Helium 10 Review: Overview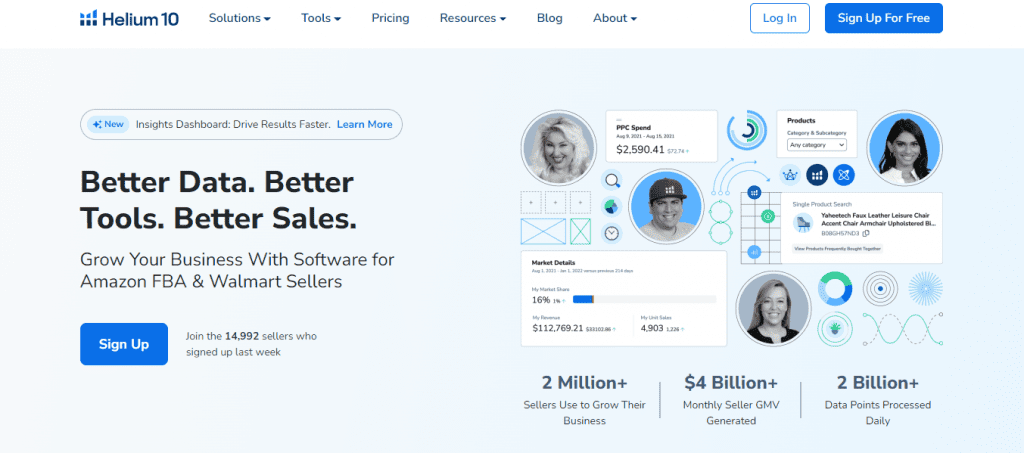 The Helium 10 Chrome Extension enables users to research profitable products and optimize listings for better visibility and sales. It offers a comprehensive suite of tools that automate certain aspects of the Amazon business, saving sellers time and money. By leveraging the right Helium 10 tools, Amazon sellers can access the necessary resources for success and stay ahead in the game.
Is Helium 10 the Right Tool to Expand Your Amazon Business?
Helium 10 is an essential tool for expanding your Amazon business. It offers product research, optimization of listings, and invaluable insights to help you succeed as an Amazon seller.
The powerful Helium 10 Chrome Extension simplifies the process of finding the most effective keywords, monitoring competitor prices, and tracking sales performance.
Furthermore, Helium 10's pricing system is affordable and accessible to sellers of all types, ensuring that everyone can leverage its benefits. In summary, if you want to enhance your success rate on Amazon, Helium 10 is the ideal tool for you.
Helium 10 Review: Power Tools & Features
1. Cerebro: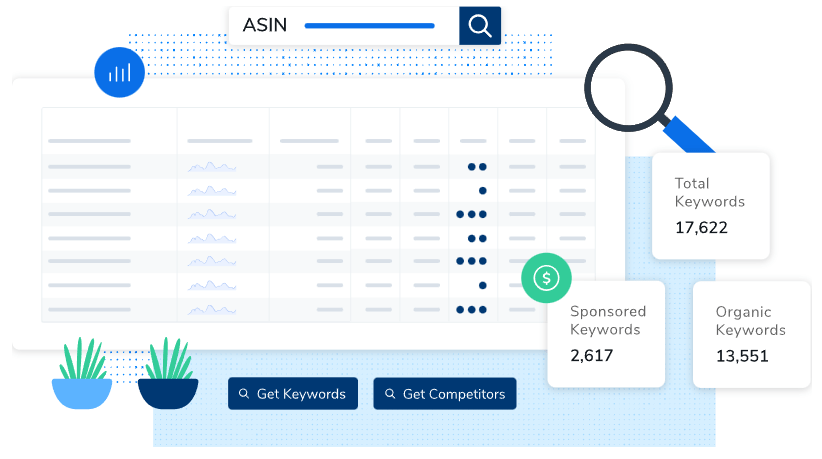 Cerebro, a crucial sales-driving tool in Helium 10, offers a reverse ASIN lookup feature. It provides valuable insights into the viability of a product on Amazon. By pasting the product URL, Cerebro displays lists of keyword suggestions ranked by their searchability, aiding sellers in optimizing their product listings.
2. CPR 8-Day Giveaways:
CPR 8-Giveaways in Helium 10 offers an accurate estimation of the number of giveaways you should conduct over an 8-day period. This information enables you to strategically rank your product at the top when the relevant search term is used. Additionally, the feature provides an estimate of the cost associated with the 8-day giveaway campaign.
3. Magnet: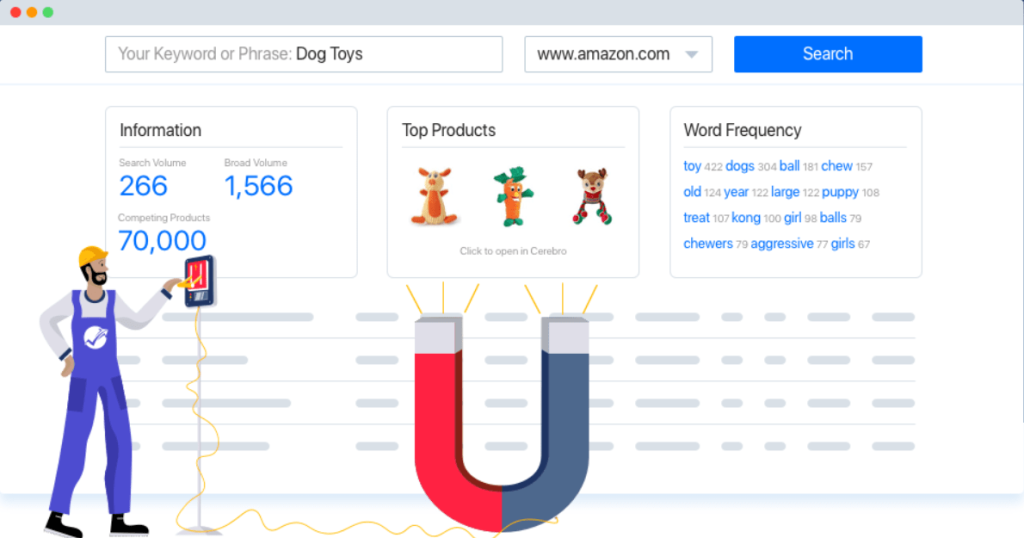 Magnet, a keyword research tool in Helium 10, helps identify high-performing keywords that can drive significant sales. By starting with a "seed" keyword, users can access a wealth of keyword-related data such as high-volume keywords, actionable keywords, top products, and word frequency. This empowers sellers to utilize keywords that generate maximum organic traffic and optimize their listings for success.
4. Frankenstein: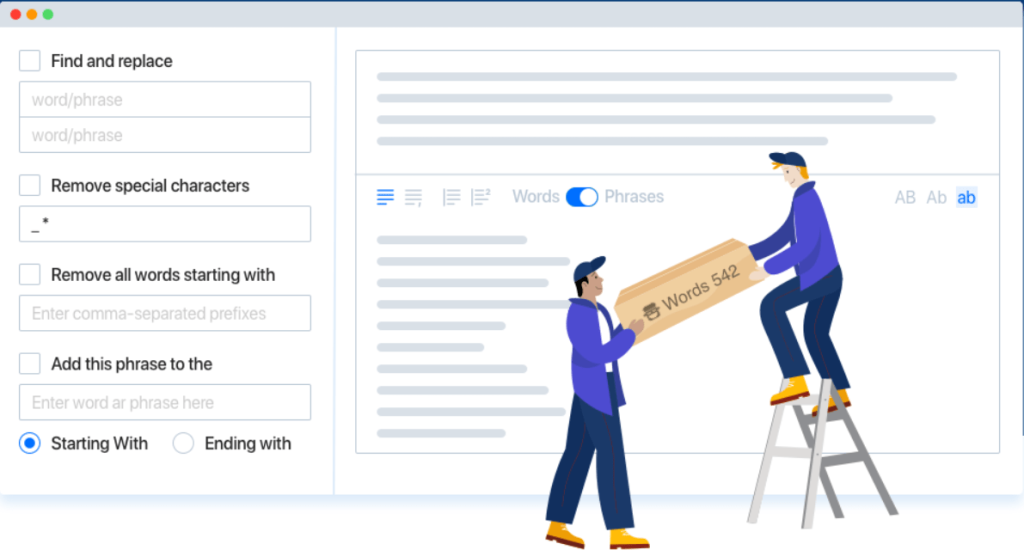 Frankenstein, a tool within Helium 10, functions as a trimming tool for keywords. Its primary purpose is to remove unnecessary modifiers from keywords, leaving only the raw keywords that generate the highest amount of traffic. Using Frankenstein is simple: paste your keywords into the tool and click a button to initiate the trimming process.
5. Blackbox: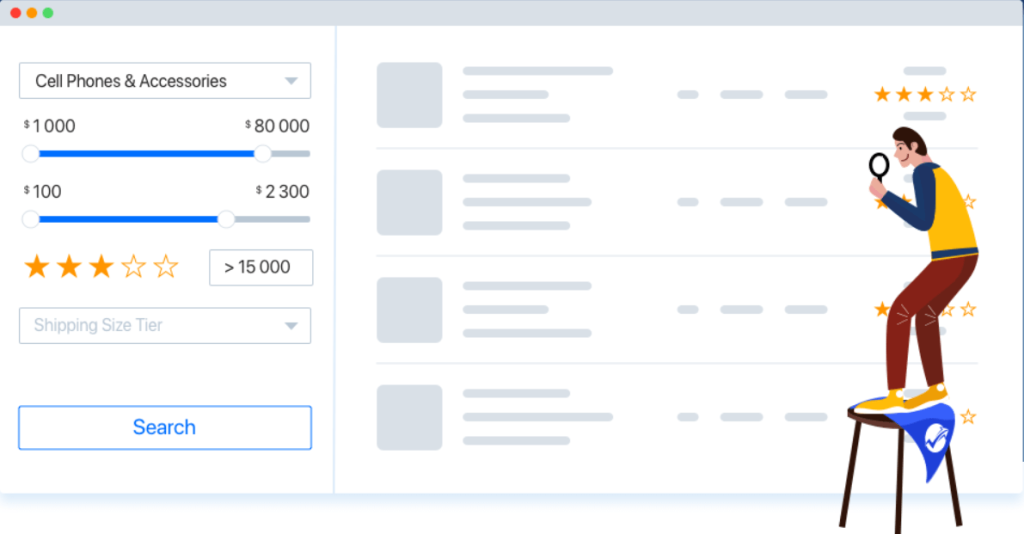 Blackbox, an essential tool in Helium 10, serves as a niche research tool. Its main purpose is to provide sellers with valuable insights into highly profitable product opportunities. By utilizing product-related data points such as monthly sales, search volume, and competition, Blackbox enables sellers to identify lucrative niches with precision and accuracy.
6. Scribbles: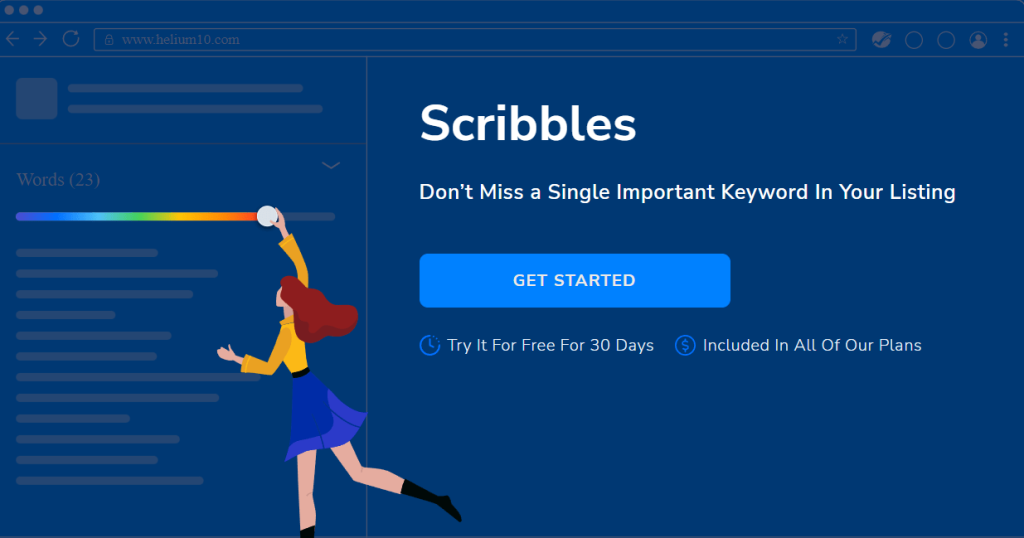 Scribbles, the Amazon listing optimizer within Helium 10, streamlines the process of optimizing product listings. It eliminates the need for manual keyword tracking by providing detailed insights on keyword usage. By keeping track of the placement and usage of keywords, Scribbles ensures that sellers' listings are perfectly optimized for maximum visibility and conversion rates.
7. Refund Genie: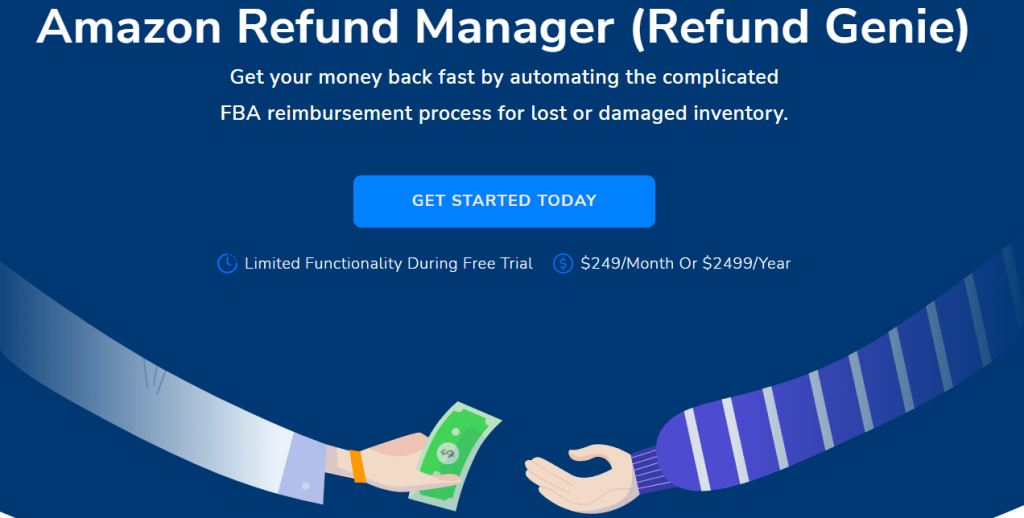 Refund Genie, a feature offered by Helium 10, simplifies the process of requesting refunds on Amazon. While it is relatively easy to ask for a refund when dealing with small amounts, it becomes more challenging as your business grows. Refund Genie identifies products for which you are eligible to receive a refund, potentially saving you hundreds of dollars annually. By leveraging this tool, you can optimize your refund requests and maximize cost savings.
8. Inventory Protector: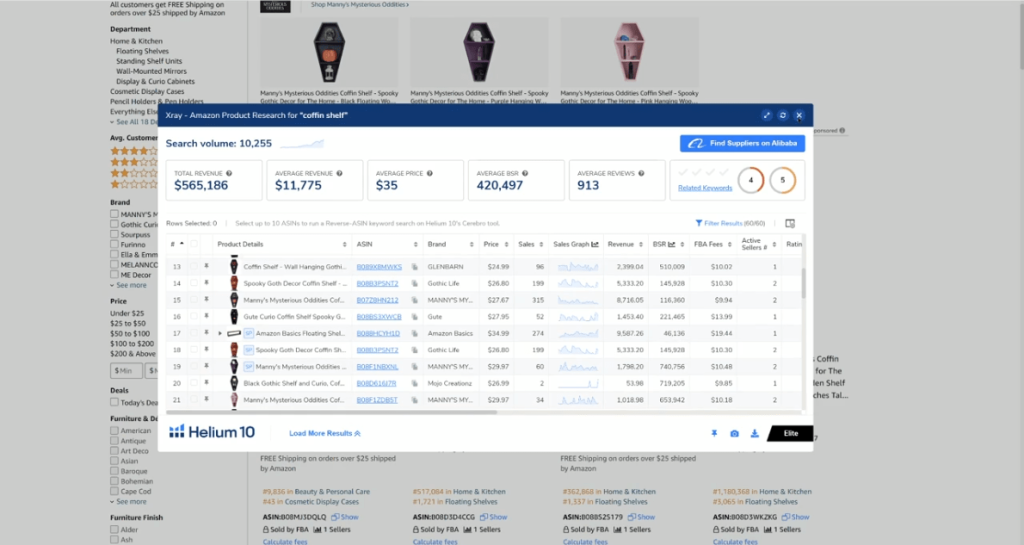 Inventory Protector, a feature provided by Helium 10, safeguards sellers' inventory when offering significant discount offers. In scenarios where buyers intend to purchase the entire stock in a single transaction, Inventory Protector prevents inventory depletion by imposing a limit on the number of purchases per user. By setting this limit, sellers can prevent a single buyer from emptying their inventory and ensure a fair distribution of products among multiple customers.
Helium 10 Review: Pros and Cons
Pros
Comprehensiveness: As said before, Helium 10 is an all-in-one platform that provides everything an Amazon seller needs.
Suitable for beginner and intermediate entrepreneurs as well
Premium platform-specific proprietary tools provision
Provides Hands-on guides and tutorials
24/7 Customer support
Provides industry-leading reverse ASIN, product validating, and listing optimization enhancer tools
Page builder, which is explicitly made for easy landing
Cons
No specific serialization of the supplier database
It could seem too pricey if you want to get full access
Hard to get familiar with. Not because it has a steep learning curve, but because it has an abundance of tools and features
It could be overwhelming for beginners
Helium 10 Review: Pricing Explained!

While Helium 10 offers a limited set of tools and features for free, relying solely on this version can be likened to running a marathon with tied legs. To unlock the full potential of the platform and have a more seamless and effective experience, opting for a paid plan is highly recommended. The paid plans provide access to a wider range of tools and features that can significantly enhance your Amazon selling journey.
The starter plan in Helium 10 offers a comprehensive suite of tools and features necessary for Amazon sellers to begin their journey and lay the foundation for growth. It includes complete access to the Xray tool, which provides valuable insights, and limited access to Helium 10's rest toolkit. For those who are new to selling on Amazon and seeking guidance to improve sales and achieve growth, the starter plan is the ideal choice. It provides the essential resources and support needed to kickstart their Amazon selling endeavors.
The platinum plan offered by Helium 10 is the most popular subscription choice, catering to the needs of growing Amazon sellers aiming to scale up their business. Subscribing to this plan grants users access to a comprehensive range of tools essential for their growth. This includes Index Checker (150 uses per month), Alerts (300 ASINs per month), Keyword Tracker (2500 keywords per month), and Follow-up (5000 emails per month). The plan also includes a single user license and incorporates training valued at $997, providing additional value and support to users.
The diamond plan in Helium 10 is an advanced tier subscription designed to cater to the needs of established Amazon sellers. It encompasses all the features and tools provided in the previous plans, along with several additional services.
Subscribing to the diamond plan grants users access to an expanded keyword tracker with a capacity of 5000 keywords per month. It also includes unlimited use of Walmart Marketplace tools, an index checker with 300 uses per month, and more.
Furthermore, this plan includes the highly valued Freedom Ticket Amazon Training, which is worth $997. This comprehensive training resource adds significant value and knowledge to the user's arsenal.
conclusion
Helium 10 stands out as a leader among Amazon FBA tools, offering a remarkable range of high-quality tools and features. It is an outstanding platform for individuals dedicated to their Amazon FBA career and seeking growth as online sellers.
For beginners, it is important to be aware of the abundance of tools and services available on the platform. While these tools provide great versatility, they may initially appear complex to those unfamiliar with them. Therefore, some preparation and familiarization with the platform are highly recommended to make the most of its capabilities.