After acquiring my first property to manage, I wasted no time in signing up for Buildium, and I can confidently say that it has been one of the most impactful choices I've made for my property management company. While I can only speak from my personal experience with the software, I genuinely believe that its automation capabilities have played a significant role in my company's rapid growth.
One aspect of Buildium that stands out to me is its user-friendly nature and intuitive design. It is evident that the creators of the software understand the needs of landlords and property managers, as they have crafted a platform that is straightforward to navigate and use effectively.
If you're interested in exploring the main features and functionality of Buildium, I highly recommend watching the accompanying video. It provides a comprehensive overview of the software, offering insights into how it can streamline your property management tasks.
You can sign here for their 14-Day Free Trial (no credit card is required.) If you use my affiliate link I will receive a small commission.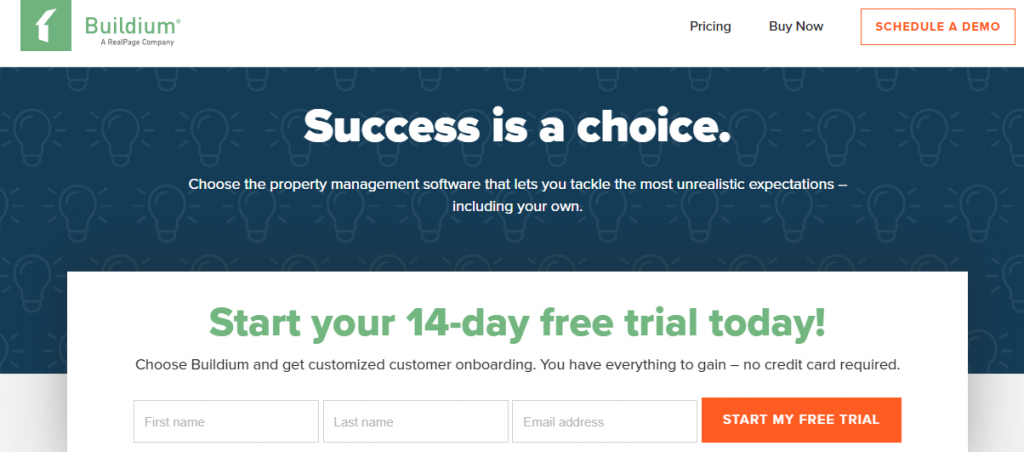 Public Website

When you sign up for Buildium, you are provided with a complimentary public website that you can personalize to align with your brand. This customization includes the ability to change the logo, colors, URL, and add custom pages to suit your specific requirements.
The website offered by Buildium is designed to be mobile-friendly, ensuring that it can be easily accessed and navigated on various devices. Additionally, it offers accessibility adjustments, such as a screen reader for blind users, enabling them to listen to the content.
While the appearance of the website may not be the most visually stunning, it compensates by delivering a fast and efficient user experience. It encompasses all the essential features necessary for an effective property management website. To explore further options and enhancements, I recommend checking out the free trial offered by Buildium.
Here are the most important features of the public website:
Mobile responsive
Web accessibility compliant
Online application
Login for tenants and property owners
Advertising and Leasing
Buildium simplifies and streamlines various property management tasks, such as property advertising, tenant screening, and lease management. What used to take hours can now be accomplished within minutes.
Listing and advertising rentals is a breeze with Buildium. With just one click, you can syndicate your listings to popular platforms like Zillow Group and Apartment.com, maximizing their exposure.
Applicants can conveniently apply and pay application fees online. The submitted applications can be processed instantly, saving you time and effort. Buildium also provides a customizable checklist to ensure all necessary documentation is collected, and applicants can easily upload documents like paystubs, IDs, and bank statements.
Tenant screening, including credit, criminal, and eviction checks, is available through Transunion for a fee of $15. This enables you to make informed decisions when selecting tenants.
Automating the tenant move-in process is another advantage of Buildium. Once an application is approved, you can create and email a lease within minutes. Buildium extracts relevant information from the application and property details to generate the lease on your behalf. Online lease signing is available for an additional $5 per lease with the basic plan.
Buildium's lease renewal feature is a significant time-saver. From the rent roll, you can instantly identify leases that are up for renewal and send offers via mail or email with just one click. Buildium even generates the email or letter for you, requiring only a simple click to send it.
Accounting and Payments
One of the standout aspects of Buildium is its user-friendly and intuitive interface, particularly when it comes to accounting. You don't need a specialized degree or extensive training to navigate and utilize its accounting features effectively.
With Buildium, you have the convenience of handling various financial transactions electronically. This includes receiving payments, paying vendors, and disbursing funds to property owners.
For tenants who make rent payments via Electronic Funds Transfer (EFT), you can easily track their payment status and view transaction details. The payment processing timeframe typically ranges from 1 to 3 days, ensuring swift and efficient transactions.
In addition to EFT, Buildium offers flexibility for tenants to pay rent using other methods. They can choose to pay by credit card or even in cash at designated locations like 7-11 stores and a few others. This diverse range of payment options leaves no room for excuses when it comes to missing rent payments.
Maintenance
From the start, I have encouraged tenants to submit their maintenance requests online, as it is their preferred method. Only in emergency situations do they reach out by phone.
Once I receive a maintenance request, I can effortlessly forward the entire request to the respective vendor with just one click. The vendor promptly contacts the tenant to schedule the necessary repairs. Meanwhile, I have the ability to update and modify the repair status online, ensuring transparent communication and tracking.
After the work order has been successfully completed, I can easily enter the bill into Buildium and notify the property owner. This streamlined process allows for efficient management of maintenance tasks, ensuring timely resolutions while keeping all stakeholders informed.
Communications
Buildium offers a comprehensive communication center that allows you to effortlessly send announcements to all tenants or property owners. Whether you need to reach out via text message, email, or even traditional mailings, Buildium provides a convenient platform to handle it all.
Within the communication center, you have access to a range of pre-designed templates that you can utilize for your messages. Alternatively, you can create your own customized templates to suit your specific needs.
Sending a text, email, or letter is a simple process that involves just a click of the "send" button. This user-friendly approach ensures that communication with tenants or property owners can be efficiently and effectively carried out.
Prices and Plans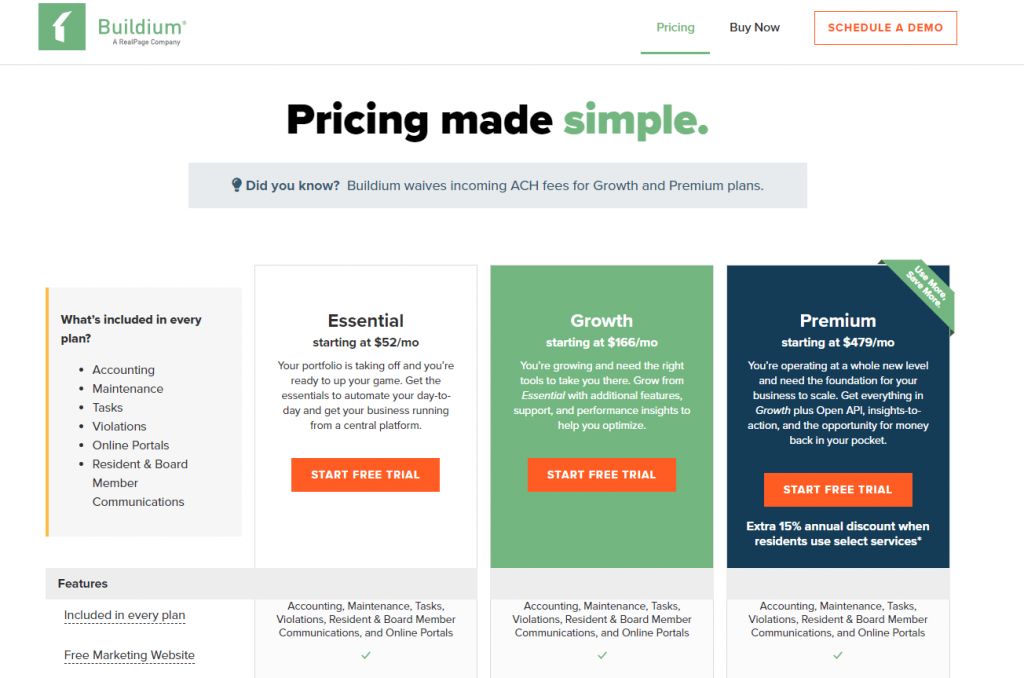 Buildium's basic plan is called Essential and the cost is $50 per month. It includes everything I mentioned above but some optional features are extra.
Incoming EFT Fees- Incoming payments by EFT cost $1.25 per transaction.
Outgoing EFT Fees – Outgoing payments by EFT cost $0.50 per transaction.
Credit Card Fees – 2.99% per transaction (this should be paid by the tenant)
Bank Account Setup Fees – $99 to set up electronic payment
eLease – $5 to sign a lease online
Property Inspections – $99 Set up; $40-$95 monthly fee
Tenant Screening – $15 per screening
In the Growth [$160 per month ] and the Premium [$460] plan, all of these extras are included in the price.
The Premium plan is the only one that offers an open API and clients leads.
Buildium Plan Cancelation and Refunds
Buildium offers flexible subscription plans that can be paid on a monthly or annual basis. Should you decide to cancel your subscription, you have the freedom to do so before the end of your plan period. For monthly plans, you can cancel at any time before the end of the current month to avoid being charged for the following month. The cancellation process is straightforward and can be done directly from your Buildium dashboard, eliminating the need to contact customer support.
It's important to note that if you have paid for an annual subscription, there won't be a refund for the unused portion of the subscription. Therefore, if you are unsure about committing to a long-term subscription, opting for a month-to-month plan would be a suitable choice.
To truly gauge whether Buildium meets your specific requirements, there is no substitute for trying the software yourself. Fortunately, Buildium provides a free trial without requiring any credit card information. This allows you to explore the features and functionality of the software firsthand and make an informed decision based on your experience.